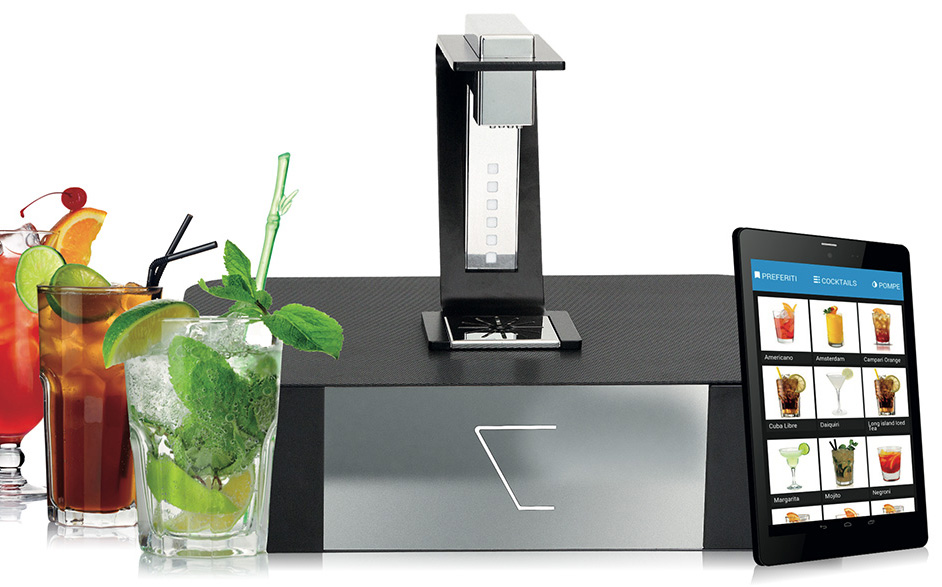 COCKTAIL MACHINE – THE ULTIMATE BAR TENDER ASSISTANT
The Cocktail Machine is a new automatic bartender assistant that allows the controlled pouring of the ingredients, optimise the consumption and reduce the time of preparation of the cocktail without the need for specific skills.

The Cocktail Machine improves bar profits and consumer experience through;
Eliminates over pouring (up to 20% saving on spirits)
Increase service speed
Delivers consistent drinks
Can be used as an aid to a skilled bartender to speed up service
Guides untrained staff how to prepare cocktails like a pros with no training required.
GiG Pro – Your bars secret weapon
Cocktail making has become an art form, with professional Mixologists often likening the process to a kind of alchemy. GiG can become your bar's secret weapon, making sure you get that unique blend of magic every time.
GiG Pro is an automatic spirit doser that works with an integrated tablet with more than 75 cocktail recipes pre-programmed and ready to follow. The simple functionality of the app allows you to dispense the precise measurements needed for each one, to the exact millilitre.
How it works
Program in your recipe and every single cocktail will taste exactly like the first inspired, Eureka-moment cocktail. Cocktails can also be dispensed into a shaker, so bar staff can still show off their air skills and entertain the crowd. With Gig Pro you can connect up to 15 liqueurs, juices, purée or syrups through completely separate channels, making for a flawless, easy process.
THE RESULT? Impeccable cocktails, mocktails and juices without a drop wasted.
Avoid Waste – Save up to 20%
Choose a cocktail, press a button and the mix is done; it takes on average 5 seconds to prepare a cocktail with different ingredients.
Thanks to GiG Pro you can be fast, therefore avoid waste and unwanted overdoses, saving up to 20% on the cost of ingredients.
Installation – Easier than ever
Place the bottles in a convenient place near the machine, can be under or over it, connect them with the provided hoses and your Cocktail Station in ready. An alert message will notify you when each bottle is running low.
App – Everything you need
In the app you'll find detailed recipes outlining how to prepare the best international cocktails. You can edit these or add your own twist to a classic. Each recipe has a step-by-step guide, detailing the glass to use, the amount of ice needed and even the right garnish to add that Finishing touch.
Finally, with a simple intuitive operation through a digital tablet or mobile phone, you can quickly make cocktails: the doses are made in accordance with the recipe and are accurate to the millilitre no matter if you make 1 or 100 cocktail, they will always be exactly the same. The system also provides reporting by cocktail and ingredient to allow precision tracking and data matching.
PDF RESOURCES
PRESENTATION: Cocktail Machine
BROCHURE: GiG – 15 Products Cocktail Machine
BROCHURE: GiG – 7 Products Cocktail Machine
INSTRUCTIONS: Cocktail Machine
Installation

Model – Size
CKMACH – AUTOMATIC MACHINE