Bracton Commercial Dishwashers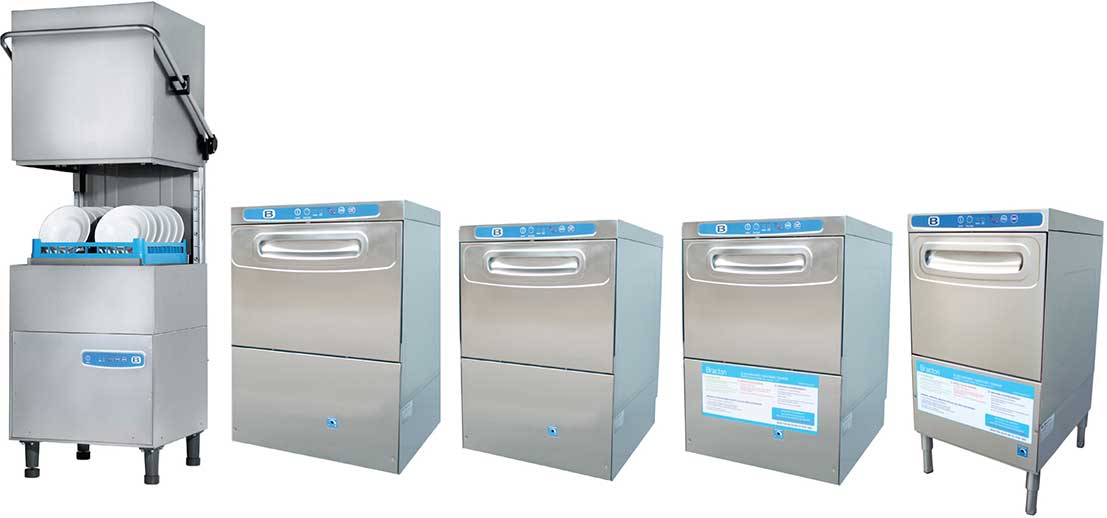 Presentation is everything when it comes to food. Bracton high performance dishwashers provide a perfect clean cycle after cycle! The Bracton Dishwashers are made to last; Brass solenoids, Stainless Rinse Tank and Low Voltage Touch Panel to ensure you don't see the repairman often either. The Bracton Dishwasher range consists of UC series: Undercounter dishwasher range or PT series: Passthrough dishwasher range.
The new Bracton Dishwashers represent the next step in evolution for commercial dishwashers, using the latest technology to provide greater reliability at the best price!
Low voltage touch panel' safer, more reliable and no more sticky buttons!
1 Minute, 2 Minute (PT Series) & 3 Minute cycle
Stainless 304 Rinse Tank
Satin Finish – Stainless 304 Body
Minimal water usage per cycle (3.5L) minimising environmental impact resulting in lower water & electricity bills
Easy to clean' Accessible filters.
Auto start or one button start
Robust brass solenoids
Ergonomics & Safety
Easy glide racks
Splash proof controls
Cycle cut-out micro switch in case of accidental door opening
12 month warranty parts & labour
PASS THROUGH DISHWASHERS
CYCLE
Cycle Times: 1 min / 2 min / 3 min
Detergent Pump: Optional

ELECTRICITY
Power supply: 415v 3 Phase 50Hz
Washing pump:750w
Boiler heater element: 6000w
Tank heater element: 3000w

WATER SUPPLY
Temperature: >50C
Pressure: 200 – 400 Kpa
Flow Rate Minimum: 20 Lpm
Hot Water consumption: 3 Litres
Connection: 20mm (BSP Male)
Waste: 40mm

PERFORMANCE
Theoretical output (racks p/hr): 55

FORM
Rack dimensions: 500mm x 500mm
Net weight: 99Kg
Rack Clearance: 380mm
Model – Size
PT2 – Bracton Pass Through Dishwasher V2
UNDER COUNTER DISHWASHERS
Cycle Times: 1 min / 3 min (soak)
Detergent Pump: Standard
Rinse Aid Pump: Standard

ELECTRICITY
Power supply: 240v 50 Hz
Amps: 15A
Washing pump: 550w
Boiler heater element: 3000w
Tank heater element: 2000w

WATER SUPPLY
Temperature (pref): >50C
Pressure: 200 – 400 Kpa
Flow Rate Minimum: 20 Lpm
Hot Water consumption: >3 Litres
Connection: 20mm (BSP Male)
Waste: Standard drain hose to S-Trap

PERFORMANCE
Theoretical output (racks per hour): 55

FORM
Rack dimensions: 450mm x 450mm (UC450 Series) 500mm x 500mm (UC500 Series)
Net weight: 48Kg (UC450 Series) 52Kg (UC500 Series)
Rack Clearance: 270mm (UC450 Series) 330mm (UC500 Series)
Model – Size
UC450 – Bracton Dishwasher 450mm Rack
UC500 – Bracton Dishwasher 500mm Rack