Bracton Commercial Glasswasher Range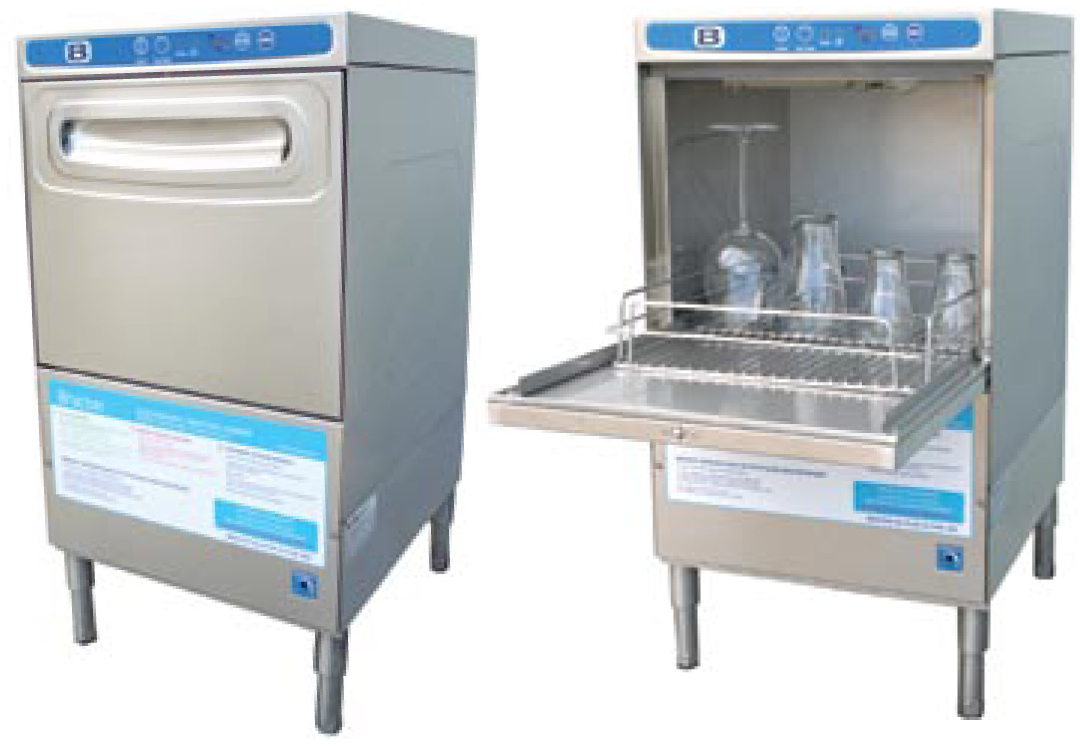 Want to know the secret to perfect head retention and better tasting beer? Clean glasses.
Bracton Glass Washers incorporate top and bottom wash / rinse arms allowing the glasses to have a total clean! At the end of the week, Bracton's unique soak cycle eliminates hand scrubbing for good, providing superior results while saving your venue on labour. Clean glasses deliver better head retention and taste for beer and better carbonation of soft drink.
Bracton Commercial glass washers tick all the boxes.
Minimal Environmental impact, Our machines are design specifically with the environment in mind, using less water, less electricity and less chemicals than the majority of our competitors.
Low voltage splash & shock proof touchpad, say good bye to sticky buttons forever.
Cold Rinse, glasses are automatically cooled after each wash to reduce thermal shock (increasing longevity of your glassware).
Advanced filtration, clean filters, providing superior results.
Easy to use, Auto one touch operation.
Bracton dishwashers and glasswashers have integrated many parts used in traditional machines, effectively reducing the number of moving parts greatly increasing the reliability over other brands. Quality Construction' Bracton uses Brass Valves and Stainless Steel AISI304 for the body and rinse tanks. All Bracton Dishwashers and Glasswashers meet the Australian requirements for watermark certification.
High-Performance Glass Washing and Automatic Glass Soaking
The Bracton range of commercial glass washers are specifically designed to make the glass washing process as simple as possible, while providing the cleanest glass ware in the industry, we believe the only thing you should see on a Bracton cleaned glass is the scratches!
Many venues these days have eliminated much of the labour intensive hand glass soaking procedures in favour for the simple soak cycle approach integrated into every Bracton Commercial Glass Washing Machine. This approach eliminates wastage of chemical, time and labour while delivering consistent results. This ability has been made possible with the introduction of top and bottom wash arms giving the ability to achieve a total clean both inside and outside the glass, where a standard glass washer could only apply chemical to the inside of the glass.
Bracton Glasswashers
BRACTON MR COMMERCIAL GLASS WASHER
Looks are deceiving, compact European designed commercial glass washer cleans like no other glass washer! Out performing any glass washer in its price range. The Bracton MR Series commercial glass washer, incorporates the Bracton signature 3 minute soak cycle alleviating the requirement to scrub or soak glasses / coffee cups manually. Significantly saving on labour costs, this process leaves the machine free from bacteria. Bracton has pioneered a 'self-clean' approach to glass care through this newly developed glasswashing machine.
BRACTON BR2 COMMERCIAL GLASS WASHER
The new Bracton Heavy Duty BR2 glasswasher represents the next step in evolution for the BR series glasswashers, using the latest technology to provide greater reliability with the same high functionally you expect from a Bracton BR Series Glasswasher at a more economical price.
Cycle Times: 1 min / 3 min (soak)
Eliminate Hand washing: Yes
Cold Rinse: Yes
ELECTRICITY
Power supply: 240v 50 Hz
Amps: 15A
Washing pump: 220w(MR Series) 550w (BR2 Series)
Boiler heated element: 3200w (MR Series) 3000w (BR2 Series)
Tank heated element: 2000w (MR Series) 2000w (BR2 Series)
WATER SUPPLY
Temperature: >50C
Pressure: 200 – 400 Kpa
Flow Rate Minimum: 20 Lt p/m
Hot Water consumption: 2 Lt (MR Series) Connection: 20mm (BSP Male)
Waste: 40mm
PERFORMANCE
Theoretical output: 60 (racks p/hr)
Actual Approx output: 46 (920 glasses p/hr)
FORM
Rack dimensions: 17×14″(MR Series) 450mm or 17×14″(BR2 Series)
Net weight: 41Kg (MR Series) 48Kg (BR2 Series)
Rack Clearance: 280mm (MR Series) 270mm (BR2 Series)
Model – Size
MR – Small-Medium Bars
BR2 – Medium-Large Bars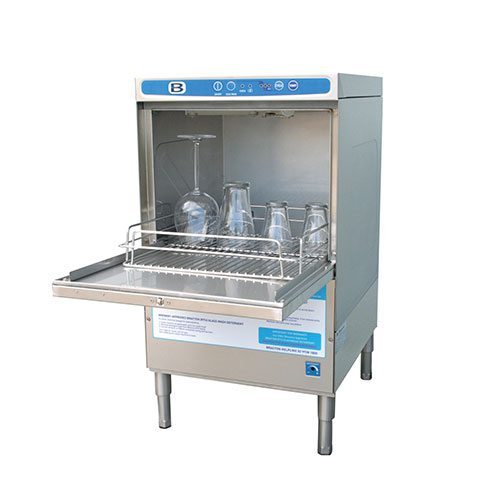 For dishwashers click here.
For information on non-hazardous glasswash detergents click here.