Bracton manufactures a range of high performance glycol brewery chiller ranging from 1kW to 100kW. Ideal for both cold liquor or fermenter cooling applications. Our glycol brewer chiller platform is highly flexible allowing the perfect configuration for specific cooling and flow rate requirements.
Benefits
All tanks are fully sealed to protect from moisture ingress. Ideal for tropical environments.
Manufactured and tested in Australia for Australian conditions
All glycol brewery chillers are rated to -10 SST @ 43C.
Cooling and pump requirements sized specifically for each cooling requirements.
National and local service support
GLYCOL BREWERY CHILLERS – SUB ZERO RANGE
Sub zero brewery glycol chillers are the latest in Bracton's glycol chiller range. Available in both remote and self contained ready to chill configuration, the sub zero platform provides a tailored solution ideal for breweries requiring up to 100kW of cooling power for fermenters or cold liquor tanks.
Bracton manufactures brewery chillers tailored to your application. Using our flexible platform, our heat exchange cassettes allow your brewery to add additional capacity as cooling and pumping requirements change, reducing unnecessary capital expenditure or plant duplication.
Using this platform also allows your plant to produce the right cooling capacity rather than 100% on or off, saving electricity consumption.
Engineered. Reliable.
Engineered to provide years of trouble free reliable service, these systems are ideal for commercial brewery applications including crash chilling. Engineered to be affordable and reliable.
Energy efficient design
High thermal efficiency insulated glycol tanks minimised heat loss from tank in Australian conditions.
Plug and chill
Our self contained chillers are designed to reduce installation costs. No fuss installation. Plug in, fill up and turn on. Note: Bracton recommends equipment be installed by a professional system installer. For your local installer contact [email protected]
Features:
Robust high thermal efficiency tank
Flexible cooling platform 80 – 1700 Lt's
Supports up to 6 Grundfos Pumps
High flow glycol connections to minimise restrictions
P-Trap overflow
Suitable for ambient installation
Australian made for Australian conditions
Local technical support and service
Affordably Priced.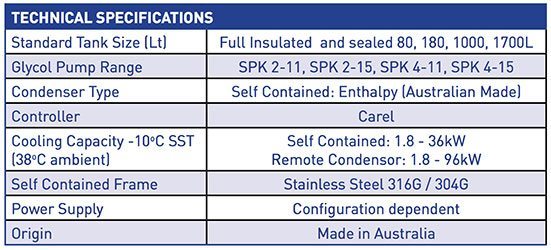 For information on sizing a glycol chiller for your brewery, contact Bracton on +61 2 9938 1800.
Brewery crash chillers used by: