Glasswash detergent and glass haze remover
GLASS WASH DETERGENT – NON HAZARDOUS

Glasses when washed between drinks must use a glasswash detergent to remove deposits left on the surface from use to maintain hygiene and beverage quality.

Brewery approved BractonSafe Glasswash eliminates the need for drying agents such as rinse aids. BractonSafe Glasswash is the preferred detergent as it has the ability to hygienically clean, lifting stains from the glass and also be the ONLY brewery approved non-hazardous glass washing detergent available.  BractonSafe Glass Wash delivers cleaner glasses and polycarbonate eliminating many of the common WH&S issues for bar staff, by using a non-corrosive product.
Using BractonSafe Glasswash detergent in your glasswasher helps beer hold its head for longer in the glass. No wonder it is Australia's favourite everyday glasswash detergent.
NOTE: To ensure perfect beverage presentation, beverage glasses should be washed with hot water with a glass wash detergent specifically designed for beverage glasses and rinsed at 82C for a minimum of 10 seconds.
Fortunately many glass washing machines will automatically ensure the temperature is correct, so all you have to do is ensure a quality beverage glasswashing detergent is used!  BractonSafe Glass Wash detergent is suitable for use with all makes and models of commercial glass washing machines and will assist in delivering beverages with perfect presentation
Available in two formulations;
Economical concentrate (BLUE)
Ready to use (GREEN) glasswasher ready.
NOTE: SAFE FOR USE ON GLASS & POLYCARBONATE.
Product Data Sheets
Glasswash Detergent – Concentrate (Blue Label)
Glasswash  Detergent – Ready To Use (Green Label)
Product – Size
BRACTONSAFE GLASSWASH Ready To Use (GREEN LABEL) – 
3 x 5Lt Carton, 25Lt Drum
BRACTONSAFE GLASSWASH CONCENTRATE (BLUE LABEL) –
3 x 5Lt Carton, 25Lt Drum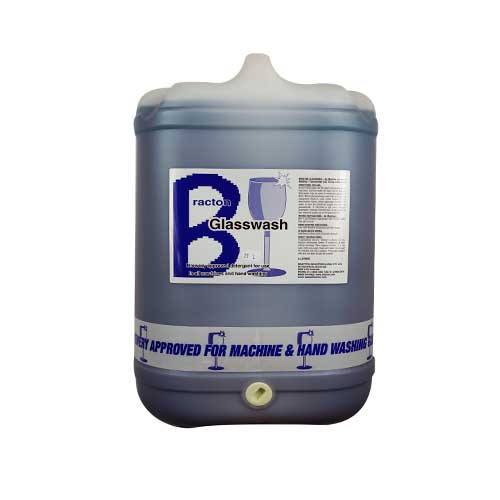 BRACTON PINK SOAK POWDER
REMOVES GLASS HAZE
USE WEEKLY

Cloudy / Chalky looking glasses?  Lipstick?
Not a problem. Bracton Pink Soaking Powder removes the heaviest stains with ease. We recommend that beverage glasses have a deep clean every week to ensure perfect glasses. There are number of methods to perform deep clean on glasses, If you have a Bracton Commercial Glasswasher your in luck! We have built a soak cycle function into the machine, press Soak on your machine add 2/3 scoop of Bracton Pink and a couple of minutes later, new glasses!
Over time glasses develop a cloudy hard scale build-up on the glass interior, requiring the need for a deep clean. Brewery approved Bracton Pink Glass Soaker / Sanitiser simplifies the task of destaining all glassware, china, plastics and cutlery ensuring sparkling hygienic results every time!
MANUAL CLEANING – Soak glasses in trays in this solution for 5 to 10 minutes then simply run through your glasswasher.
MACHINE CLEANING – Bracton Glasswashing Machines have an inbuilt soak function to eliminate this labourous task. Add half to two thirds of a scoop (every 5 racks)  of Bracton Pink to the machine wash bay of a Bracton MR, BR or BR2 Series glasswasher, set the machine to soak cycle and press start. NOTE: Polycarbonate Glass safe.
Product Data Sheet
Bracton Pink
Beer, wine & coffee cup soaker sanitiser

Product – Size
BRACTON PINK SOAKER – 5Kg, 10Kg Pail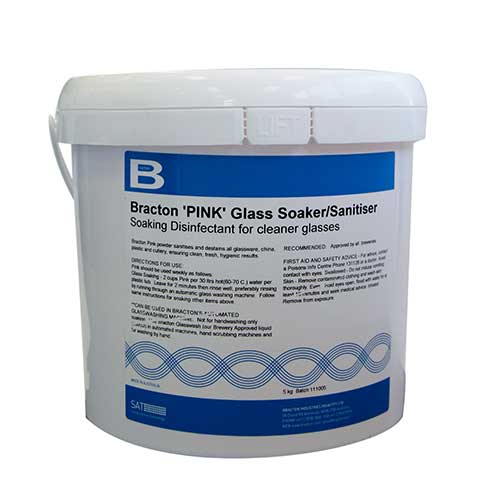 For both packaged and keg beers, no item of dispensing equipment is more important than the beer glass in the production of a perfect beer! All the good work in having an excellent cellar operation and regular beer line clean can be completely undone with poorly maintained glassware.
A dirty glass seriously impair beverage presentation, flavour, clarity and head of the beer. In particular, the thick creamy, last head on the beer that customers love can be spoiled by even the slightest residue of grease / food fats on the glass. It is imperative that an absolutely clean glass is used on every occasion. The easiest solution for perfect glasses is the regular and correct use of brewery approved Bracton glass care products.
Brewery approved – The breweries want their beer to present well to your customers, BractonSafe gets a tick of approval from the top beer lovers!
Economical – At approximately 2.8¢ per rack to keep beverage glasses clean, you can afford to offer the cleanest glasses!
Free rinsing – Many detergents clean, though they often do not rinse off quickly, leaving a beer foam killing film. BractonSafe Glasswash rinses quickly and easily.
Non – Hazardous – WH & S is serious, BractonSafe Glasswash can help venues, by eliminating hazardous chemicals from front of house operations.