Learn cellar safety and operations at the Bracton Academy.
The Bracton Academy delivers industry leading cellar training, designed to help staff manage cellar safety, chemical management, standardised operations and loss minimisation. Three cellar courses to choose;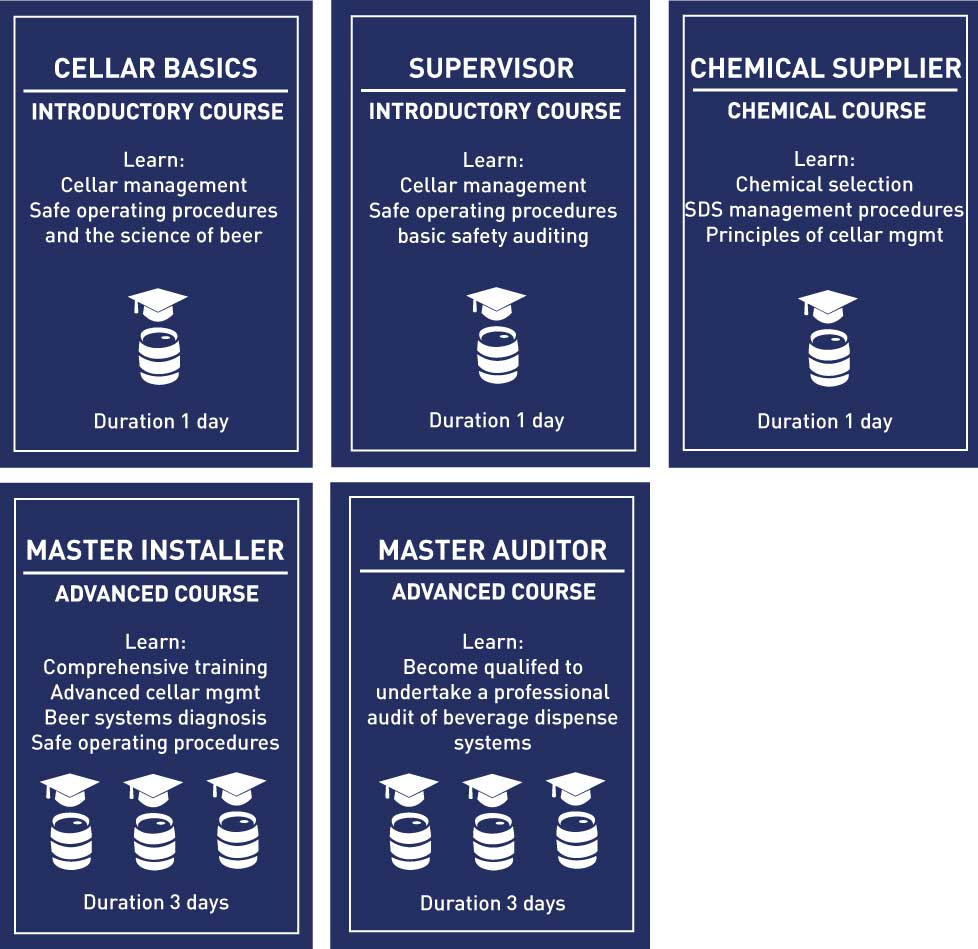 Students will learn
SAFETY – Develop safe cellar procedures and implement best practice cellar management
KNOWLEDGE – Identify cellar equipment and understand the role different cellar equipment plays in best practice beverage dispense
MAINTENANCE – Maintain cellar equipment such as beer taps, gas boards gas regulators, kegs etc
CHEMICALS – Order, store and safely use hazardous and non-hazardous cellar chemicals, including product procurement
RISK ASSESSMENT – Identity risks and hazards in venues associated with beverage, cellar and back of house management and how to substitute identified risks with less dangerous alternatives using the 'hierarchy of risk management'
SDS USAGE – Use personal protective equipment, interpret Safety Data Sheets, comply with Australian Standards applicable to the cellar (e.g. AS5034-2005)
For more information visit www.bractonsafe.com
Academy overview
---
The Bracton Academy delivers industry leading cellar management training. Students will learn how to establish, maintain and manage beverage dispense systems, cellar areas and 'back of house' operations across a range of different venue types. Training courses will incorporate cellar workplace safety and chemical management, and provide a comprehensive overview of best practice beverage dispense system instillation, operation and maintenance.
From small bars to large clubs, this course will benefit hospitality employees such as bar-tenders, store-men, and cellar-men to help identify cellar hazards and understand beverage dispense equipment. Students will leave with an understanding of the various sciences that are involved with best practice cellar management and beverage dispense – what we refer to at Bracton as 'the science of beer'.
Our courses aim to teach what is required to dispense beer how brewers intend their product to be consumed. While brewers' recommendations may differ from product to product, presentation is paramount and factors such optimal dispense temperature, clarity, foam, taste and odour are always important and need to be understood.
Experienced Educators
---
Bracton's experienced training educators are hand picked to provide the most up to date information in relation to the codes and practices that govern our industry.
Guest Speakers
---
Periodically, Bracton will invite industry leaders to share their knowledge and methods for cellar operations and safety.

FAQ's
---
How are courses delivered?
Face to face at our state of the art education facility in Sydney.
How do I enrol?
Complete the enquiry form below.
Are there pre-requisites?
No
How long do the courses go for?
The Cellar Man Introductory course runs for 1 day. Class commences at 9am and finishes at 5pm. Cellar Man Advanced Courses and Distributor Chemical Courses are held by request only – please get in touch with us for more details.
What qualification will I receive?
A certificate of competency that you understand and meet the minimum requirements of the course objectives.
How is the course structured?
Our courses provide a mixture of lecture based theory which is delivered in our classroom, and hands-on training which is demonstrated in our fully functional cellar and bar areas. We also provide factory tours of beverage dispense equipment manufacturing so students can see what goes into creating pythons and assembling fonts and fittings.